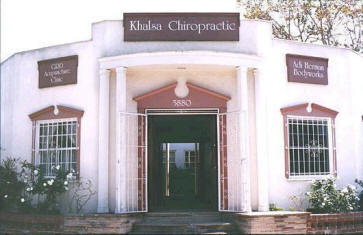 Khalsa Chiropractic has been providing personalized, hands-on chiropractic care since 1979.
Dr. Mha Atma S. Khalsa has treated thousands of patients of all ages, from babies to seniors. Patients come from our neighborhood and from all over the Los Angeles area to see Dr. Mha Atma (pronounced "mahatma").
Our office is located in the Wilshire-Vista Health Center at 5880 San Vicente Blvd., Suite 101, in Los Angeles, 3 blocks east of Fairfax, one block south of Olympic, and across the street from Olympia Medical Center.
Please call our office at 323-857-1277 to speak with Vanessa
, Hope, Madeline or Martha about scheduling an appointment, or you can ask to speak with Dr. Mha Atma if you have questions about whether he can help your specific health problem.