Why Drug Costs Aren't The Real Issue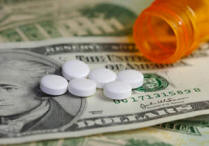 By Jack Challem ©2005 Reprinted from the August issue of The Nutrition Reporter www.nutritionreporter.com and www.feedyourgenesright.com
To save money, tens of thousands—and perhaps even millions—of Americans buy their prescription drugs from Canadian and Mexican pharmacies. It's no secret that the drug companies don't like this type of discount shopping because it cuts into their profits.
But the ongoing controversy over the cost of prescription drugs skirts several more important issues. The problem is not so much the high cost of drugs. Rather, it's our unnecessary and excessive dependence on them.
The pharmaceutical industry has promoted the view that prescription drugs are panaceas. When we develop health problems, drugs are assumed to be the miracle medicine. Yet drugs do not "cure" diseases. At best, they relieve some symptoms while also posing serious side effects. In hospitals alone, prescription drugs account for just over 100,000 deaths each year.
It's easy to forget that diseases are always easier to prevent than to reverse. That's because the most catastrophic diseases—cancer, heart disease, Alzheimer's, diabetes—take years to develop and become apparent enough for diagnosis.
And so how can we prevent these and other diseases, as well as reduce our dependence on drugs?
Sorry if this sounds like an old saw: eat healthier foods, take at least a multivitamin, exercise a little, and find ways to offset the stress in your life.
But public health efforts to promote healthier eating habits and lifestyles are overwhelmed by relentless advertising for soft drinks (which contain one-half cup of sugar in a two-liter bottle), various other junk foods, and fast foods that sabotage the best of intentions.
These low-nutrient foods contain large amounts of sugars, refined carbohydrates, and trans fats relative to their protein, vegetables, and fiber – a ratio that sets the stage for overweight and diabetes.
Add the work and home stresses of contemporary life, and there's little time for cooking a healthy meal or going out for a regular walk.
So when something starts to ache, we want our doctor to prescribe one of those miracle drugs.
But haven't we learned our lesson yet? Hormone-replacement therapy (HRT) was originally marketed to prevent hot flashes and preserve bone density in menopausal women. After billions of dollars in profits over 30 years, the drug companies could no longer deny that these drugs increased the risk of heart disease and cancer.
A similar story recently unfolded with Vioxx, which earned its maker billions of dollars over the past five years. The drug was withdrawn from the market because it doubled a person's risk of heart attack and stroke.
Prescription drugs should not be the first treatment of choice, except in emergencies. They're just too expensive and risky. Rather, our first option always should be modifying eating habits and lifestyle. Hippocrates got it right 2,000 years ago – let food be your medicine – but the concept still seems foreign.
Dietary improvements work, and they work surprisingly fast. Eating a high-protein, low-glycemic breakfast results in improved blood sugar levels – and less of a tendency toward diabetes – by lunchtime. People who skip breakfast actually eat more throughout the rest of the day and are more likely to gain weight.
One recent study found that calcium and B-vitamin supplements alone could slash health-care costs by $15 billion dollars. But those impressive savings would cut into the profits of drug companies and hospitals – which is why there's no genuine effort to reduce health-care costs.
If our political leaders – and even our physicians – are serious about preventing disease and controlling health care costs, they must give more than lip service to encouraging better dietary and lifestyle habits. Aggressively emphasizing prevention is the only ways to reduce our dependence on prescription drugs and to lower health-care costs.
This article is by Jack Challem, editor and publisher of the Nutrition Reporter, a monthly newsletter, and author of The Inflammation Syndrome. His latest book is Feed Your Genes Right. More information on his excellent work is available at www.stopinflammation.com
.