About Khalsa Chiropractic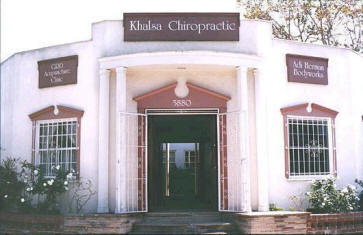 Our office is located in Los Angeles, about six miles West of downtown and 2 miles southeast of Beverly Hills. We are on the corner of Spaulding and San Vicente, 3 blocks East of Fairfax and a block South of Olympic. We've been at that location since 1980. We are committed to providing high quality, personalized health care at reasonable prices.
The Doctor
Dr. Mha Atma S. Khalsa is a graduate of Los Angeles College of Chiropractic, one of the nation's oldest and most respected chiropractic colleges. He has been in practice since 1979. He is a diplomat of the National Board of Chiropractic Examiners, licensed by the California State Board of Chiropractic Examiners, and a member since 1979 of the American Chiropractic Association and the California Chiropractic Association.
Our Patients
Thousands of patients of all ages (5 days old to 95 years old, to be exact) have experienced the benefits of chiropractic care at Khalsa Chiropractic. Most of our patients come to us through personal, word-of-mouth referrals and/or from our neighborhood; some are referred through their insurance plans.
Hours
We are open from Monday, Wednesday and Friday from 7:30 A.M. to 1:00 P.M. and from 3:00 P.M. to 7:00 P.M. We see patients on Tuesdays from 11 AM to 1:00 P.M. We are open alternate Saturdays from 9 A.M. until
1:00 P.M. Emergency appointments are available at other times.
Fees and Insurance
Many health insurance plans, as well as auto insurance, cover chiropractic care. Dr. Mha Atma is a listed preferred provider for many plans. Our staff can help you determine your exact coverage for chiropractic care.
Fees for all patients, with or without insurance, are very reasonable. An initial consultation with the doctor is always available at no charge, and you will be informed of the exact cost of any needed services before they are rendered.