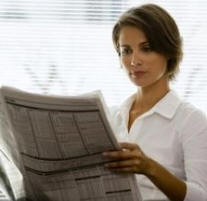 The Spinal Column
Spring 2017
Back pain checklist
Dear Patients and Friends,
Patients often ask me what they need to do to lose their back pain and to prevent it from recurring. Of course, chiropractic treatment is unique and irreplaceable for many in their efforts to feel better. But there are a number of other important factors that should be and sometimes must be addressed. Below is a checklist of some of the most important.

It may not be necessary to cover all the things on this list. But factors leading to the onset or persistence of back pain are likely to be found here, and the more of these you can check off, the more likely you are to feel better and stay better. Some folks can get away for a while without doing any of these, but sooner or later their neglect catches up with them. Sometimes taking care of just one of these factors is enough to result in a very noticeable difference. But some folks may need to check off every item in order to eliminate their back pain and keep it better.
__

Have I been getting regular or sufficient chiropractic care?
__ Have I been doing consistent and sufficient back mobilizing and
stabilizing

exercises?
__
Have I been doing enough walking or other aerobic exercise?
__
Have I been eating an anti-inflammation diet and taking anti-inflammatory supplements?
__
Have I been sleeping in a good position and on a decent mattress?
__
Have I been mindful of good posture and ergonomics while working, sitting, and standing?
__
Have I been getting sufficient rest and sleep?
__
Have I been compassionate toward myself and managing stress reasonably well?
When you are able to check off every item on this list, your back is likely to feel better. And you may notice some side effects, which could include more energy, less pain in other parts of your body, better digestion, a stronger immune system, an enhanced feeling of general well-being, and more!
Yours for better health, naturally,
Mha Atma S. Khalsa, D.C
-----------------------
Chiropractic Research News
Another new study demonstrating effectiveness of chiropractic care for chronic back pain
—In a recent study published in the prestigious medical journal Spine, researchers evaluated 192 patients with chronic lower back pain (most of them had pain for over a year). The patients were divided into three groups. One group received traditional side-lying chiropractic adjustments—just twice weekly for two weeks. The second group had chiropractic "flexion-distraction" therapy (a form of hands on movement traction), again twice weekly for two weeks. The third had no treatment. Both of the chiropractic treatment groups demonstrated significant improvement after just four visits compared to the non-treated group. It was noted that typical recommended chiropractic treatment for chronic back pain is 12 visits over four to six weeks, which would be likely to result in further and more lasting improvement. Spine
41(12) E702-E70
Chiropractic adjustments for pregnant women
—In a small but intriguing study, researchers at the New Zealand College of Chiropractic evaluated 26 women, 11 pregnant for the first time and in their second trimester, and 15 non-pregnant. All were aged 18 to 35 and had no symptoms. They were assessed for spinal dysfunction (also called "subluxations" or vertebrae with restriction of normal movement) by chiropractors with at least 10 years of clinical experience. Each subject was treated only once, first with a "control" intervention (examination and positioning but no actual treatment) and then with a regular chiropractic adjustment. Pelvic floor muscle tension was assessed with ultrasonic imaging before and after treatment. The images showed that muscle relaxation increased significantly after the actual chiropractic treatment in all pregnant women, but not in the non-pregnant women. Researchers explained that pelvic floor dysfunction during pregnancy contributes to incontinence, pelvic organ prolapse and difficulties during vaginal delivery, and that therefore this preliminary study indicated the possibility of important benefits of chiropractic treatment for pregnant women. Journal of Manipulative and Physiologic Therapeutics
(JMPT) 39:339-347
Growth of chiropractic services in VA system
—A recent article in

Journal of Manipulative and Physiologic Therapeutics

stated that chiropractic was introduced into the Veterans Administration (VA) health care system and that Congress mandated in 2001 that chiropractic be made available in a minimum of 21 VA facilities. From 2005 to 2015 the annual number of patients seen by doctors of chiropractic in VA clinics increased from 4,052 to 37,349 (822% increase), the number of visits increased from 20,072 to 159,366 (u 694%), and the number of chiropractic clinics in VA facilities grew from 27 to 65. Also by 2015 the VA paid for 158,533 chiropractic visits from chiropractors outside the VA (including Dr. Mha Atma) who contracted with the VA to provide services to veterans. Since there has been no legislation since the 2001 bill mandating services in at least 21 facilities, all of this growth has been "organic" and driven by demand.
JMPT

39:381-386
Chiropractic reduces opioid use and harm
—A new study published in JMPT presents the case, supported by detailed analysis of Medicare data, that greater use of chiropractic services has promising potential for reducing American's "expensive and expanding opioid use epidemic." They note that, motivated by a 16.3% increase in overdose deaths from legal opioid drugs in 2014, the US Centers for Disease Control has issued new guidelines to physicians to reduce opioid prescriptions, stating that "the risks are addiction and death, and the benefits are unproven." In this study, data analysis found that the per-capita supply of chiropractors and of Medicare spending on chiropractic care was strongly inversely correlated with the percentage of younger Medicare beneficiaries with at least one, and with 6 or more, opioid prescriptions. They suggested that "Medicare providers consider promoting a trial of CMT (chiropractic manipulative therapy) prior to use of conventional medical care for patients with neck or back pain." They also referenced a 2012 study which compared CMT, home exercises and advice, and standard medical management for patients with neck pain. Patients in the CMT and in the exercise groups did much better and none of the 182 patients in those two groups took opioids, while 80 of the 90 in the medical management group were prescribed and took opioids.

JMPT
39:263-266
-------------------------------
Back Pain: Bad for Your Mental Health
If you're not already utilizing chiropractic care to resolve your back pain and reduce the likelihood it will return – not to mention improving your overall health and wellness – that means one of two things: you haven't suffered back pain (yet) or you've decided to temporarily suppress the pain with over-the-counter or prescription medications. The latter is, as mentioned, a temporary solution that doesn't address the root causes of the pain, while the former is also likely temporary, since an estimated 80 percent of adults will suffer back pain at some point in their lifetime.
Back pain can be a problem for a variety of reasons beyond the pain, whether it's limiting your daily function, forcing you to take time off work, or otherwise impacting your life. But there's another reason suggested by recent research that should vault "getting rid of back pain" to the top of your priority list: Back pain could increase your risk of suffering mental health problems.
The study used data from the World Health Organization's World Health Survey 2002-2004 and involved more than 200,000 study subjects ages 18 and older from 43 countries. Data analysis revealed that compared to people without back pain, those with pain were more than twice as likely to suffer from one of five mental health conditions: anxiety, depression, psychosis, stress and sleep deprivation. Subjects with chronic back pain were particularly at risk for a depressive episode (more than three times more likely) or psychosis (2.6 times more likely) compared to pain-free subjects.
Think you've got your back pain handled? Nice try. Do something about the pain - and the potential mental health consequences - with regular visits to your doctor of chiropractic.
---------------------------------
Neck Pain: Think Chiropractic
Neck pain is no laughing matter; depending on the severity, it can ruin your day, week or even longer. But before you turn to the medicine cabinet for your favorite pain reliever, why not consider a more permanent option that doesn't just take away the symptoms of the problem, but actually addresses the root cause of the pain? That's where chiropractic can make a difference.
Common causes of neck pain that can be addressed by your doctor of chiropractic are the result of the aging process (spinal degeneration, osteoarthritis) and daily life, including stress and poor posture. Other potential causes include faulty sleep position and improper movements – and these days, craning our necks to peer into our smartphone screens and other portable devices isn't helping, either.
So, how can chiropractic help? A number of research studies support chiropractic care for neck pain. Here are a few examples from the literature:
A 2003 study deemed manual therapy (spinal mobilization) more effective than physical therapy and medical care (including medication) in helping patients with neck pain lasting at least two weeks.

A 2007 review determined "high-quality" evidence supports chiropractic spinal manipulation for chronic neck pain, with patients reporting significant reductions in pain.

A 2012 study found chiropractic care reduced neck pain to a greater degree than pain medications such as aspirin or ibuprofen. (Even simple exercises performed at home proved more effective than drugs.)
Ready to tackle your neck pain head-on, rather than ignoring it or taking pain meds to temporarily mask the pain? Don't wait any longer. Make an appointment today with your doctor of chiropractic and begin the road to recovery.
O THANKS FOR HELPING US HELP OTHERS! O
& MY CHIROPRACTIC STORY &
Alex Winfield
I had excruciating pain in my lower back for nearly a month. Three doctors at Kaiser just prescribed painkillers and heat. One gave me Naproxen, the next gave me Tylenol, and the third gave me Meloxicam. The medical doctors actually made it worse. The pain was intense.
I could not function, and I'm normally a very active guy. Conventional medicine wasn't working. I had been to Dr. Mha Atma years before but only because I had been given a gift certificate. I wasn't sure if chiropractic would help but I felt I had nothing to lose.
Dr. Mha Atma and his office staff were very professional. Dr. Mha Atma was the only doctor to identify and correctly treat my problem. He recommended chiropractic adjustments every other day at first, along with exercises to stretch and strengthen the back muscles, plus an anti-inflammation diet.
I started feeling better within a few sessions. Within six weeks I was completely pain free and when I returned for a maintenance treatment a month later, I still felt great. I am now telling everyone I talk to about my
chiropractic experience and highly recommend it. I put more confidence in chiropractic than in medical doctors for certain conditions.
PLANT THE SEEDS OF GOOD HEALTH:
SEE YOUR CHIROPRACTOR REGULARLY!
© © © © © © © © © © © ©
SATURDAY, April 8, 2017 is
HOPE DAY!
In exchange for a donation of $10.00 or more to a local organization which provides food and other essentials for those in need:
All present and former patients will receive a FREE chiropractic adjustment and...
All new patients will receive a complete chiropractic examination and their initial treatment! (New patients can schedule their visit any time from now through the end of April!)
This is your golden opportunity to join us in helping our community while improving your health and introducing your family and friends to chiropractic.
Please see the flyer at: http://www.drmhaatma.com/2017-hope-day-flyer.pdf for details, then call for a HOPE DAY appointment!